The Nature of Teak
Teak furniture offers your garden space a beautiful natural accent to your garden, and whilst the majority of Hartman furniture requires very little to no maintenance, depending on what teak look you want to achieve will require more maintenance.
Teak is a natural product; it lives, moves and responds to weather and environmental influences, but your furniture is still very robust and can withstand both sun and rain. These natural features give the product its charm.
Overtime the teak does naturally change in appearance. From the honey brown as it was purchased, it will age to a patina grey unless it is cared for using Hartman Teak Protector.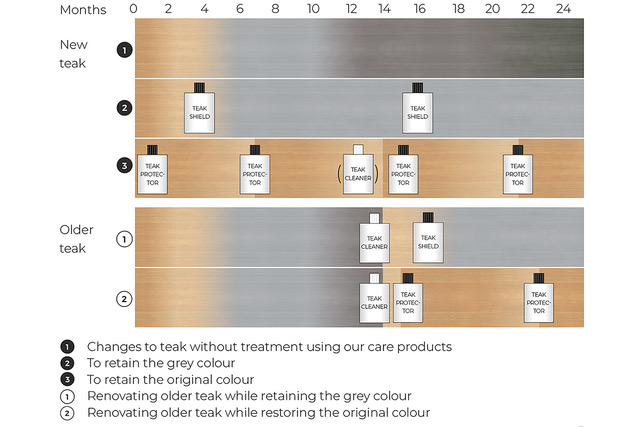 The Nature of Teak
Oil stains on teak
To remove oil stains, first treat the table with Teak Cleaner, applying the care product with a soft brush in the direction of the wood grain. Then leave the table to dry completely. Only use Teak Protector in your preferred teak colour when the table is completely dry (follow the product instructions). Please note: Never apply Teak Protector directly to oiled teak as this may cause unwanted staining or mildew.
Dark or light stains in certain areas of your teak furniture
Black stains can appear because of moisture in the wood. Don't worry. You can easily remove these with our Teak Cleaner. For the perfect result, we recommend first sanding down the affected areas with fine sandpaper before cleaning with Hartman Teak Cleaner. We recommend using Hartman Teak Protector to prevent new stains appearing. First use the cleaner and then the protector. Make sure that the teak is completely dry before applying the protector so that no moisture forms that could permanently damage the product.
What can I do if my teak is rough and weathered?
The weather can change the look of furniture. This includes the appearance of cracks, greying, the pores of the wood open making it feel somewhat rougher, and black stains appear. These changes only influence the look of the furniture and not its strength or durability. Teak contains enough natural oils to protect the wood from rotting. However, if you'd like a perfectly smooth surface, we recommend lightly sanding the teak by hand using the very finest sandpaper. (Using a sander will generate additional heat that can cause black stains on your wood furniture.) After sanding, remove any remaining dust with a dry sponge. Complete the 'preventive treatment' by applying our Teak Cleaner and Teak Protector.